10.2.2007
back to previous page // back to homepage
---
Surveys of Rand Grange and Crakehall, 1629-30
This consists of two documents in the Beresford Peirse papers (ZBA 11/8/5). Transcribed by Ian Hancock, 2001, with the kind permission of Sir Henry Beresford Peirse.
Although the surveys of Rand Grange and Crakehall were made at about the same time, and are together in the Beresford Peirse archives, it is unclear whether the Crakehall document was produced by Aaron Rathborne, who was the author of the Rand survey. The Rand survey is in Latin - I have translated it; the Crakehall survey is in English. By 1630 Rand Grange was the property of the Peirse family, but Crakehall had been sold by the Crown to the Ramsays (see here for a full account). Whether or not they are part of the same survey, the two documents served the same purpose - to give a financial account of properties newly acquired by their landlords. In addition, the Crakehall document seems to contain calculations about the sale value of the manor. It is interesting to compare this with the 1602 survey (see here). By 1630 the manorial mill (Crakehall Mill), and the bakehouse, are no longer included. The grant of the manor of Crakehall to the Ramsays included the mill, so it must have been sold between 1624 and 1630.

The description of Rand Grange can be compared with the map made for Peirse four years later by John Raper. This shows that what is described in the Survey as West Pasture was by 1634 divided into North Pasture and South Pasture.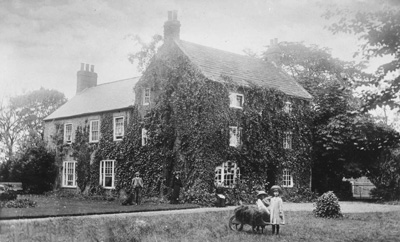 Rand Grange in the 1920s
(courtesy of Ms Denny Gibson of Bedale)
---
Survey of Rand by Aaron Rathbone, 1629, by order of state
[ This is an official copy for Peirse, made at the time ]

Lord Scrope holds in Rand land worth p.a. £6 - 13 - 4
Particulars :
Three houses with three score ........

Two closes of meadow called Westcloses ....... £8

Another parcel ofmeadow called the Westgarth ........ £3

Two parcels of meadow called Bristoll Ings ........ £21

Another parcel of meadow called Tenn Acre Close ........ £7

One other parcel of meadow called Clapham Close ......... £7

Two parcels of meadow called Calf Close and the Tendeclose ..........

Arable land called Randeleys, containing ..........

Pasture called the Wood, containing pasturage for 24 beasts ........

Another pasture called the Fall Close, containing pasturage for 12 beasts ........

Another parcel of pasture called the West Pasture containing pasturage for 40 beasts ........

Another parcel called Heydons containing pasture for 14 beasts ........

For £32-15-4 [ Total ]
---
A Particular of the Manor of Crakehall, Ebor.
Some [sic] of all the yerely .... rents per ann. ........£37 - 14 - 2

The fee-farme rent to the King ........£34 - 9 - 3, and do clare of the rent paid £3- 4 - 1
Lands and tenements out of lease per ann. ........£78 - 18 - 8
At 15 years purchase ........ £1230

The clere yerely valew of the lands in lease for 12 yeres .......... £294 - 4 - 3
At 9 yeres purchase ........... £2794 - 18 - 0
Besides:

The waste of Little Crakehall improved by the Tenants and Freeholders and not in the leases, worth per ann. ........50s

40 acres of land incroached from Noemans More in Crakhall by John Jackson worth per ann. ...... £10

A parcel of land in the tenure of Peter Chapman, mixt with his freehold farm, which he offereth ...composicon ......... [ blank ]

The schoolehouse land holden by the towne without right over the (farm) ....... £2

127 acres of waste in Great Crakhall and beside 9 (carucates?) and 36 acres.....of land holden by knights service of the manor of Crakhall appearing by Record setting out the parties names & the several places where the lands do lie :[ this refers to the 1602 survey ]
Vallews land
per ann.
presente rent
clare farm
Lands and tenements out of lease
Certen lands called Burstall in the tenure of the Earle of Sund
£50
00
£50
Certen other lands called Steynhouse grange in the ten of the Earle
£19
?
£19
Certen lands called the Burstall in the tenure of Miles Metcalfe
£8
14s
£7 - 6 - 0
Pcell of meadow called the Bayliffs acre in ten of sd Earle
12s
1s
11s
Tente in Little Crakhall in ten of Alex Vittie
£1 - 10 - 0
5s
£1 - 5 - 0
Cottage with Smiths forge in ten of Willm Horner
6s - 8d
?
6s - 8d
The fishing of Crakhall Ryver in tenure of Tho.Rudd
£1
10s
10s
Lands in lease for 5 years at Lady Day 1630
Certen lands called the Rand in ten of sd Earle
£50
£6 - 13 - 4
£43 - 6 - 8
Lands in lease for 16 years at Lady Day 1630
A certen 58 acres of ld in the tenure of Miles Metcalfe
£25
£4 - 17 - 10
£20 - 2 - 2
Lands and tenements in lease for 12 years at Lady Day 1630
A tente wth 63 acr land in the ten of Margaret Storer
£33
£2 - 10 - 0
£30 - 10 - 0
A tente wth 62 acr land in ten of George Storey
£25
£2 - 10 - 10
£22 - 9 - 1
A tente wth 66 acr land in ten of Wm.Clarke
£27 - 10 - 0
£1 - 6 - 4
£26 - 3 - 8
A tente wth 30 acr land in ten of Robt.Collinson
£17 - 6 - 8
£1 - 4 - 9
£16 - 1 - 11
A tente wth 36 acr land in ten of Wm.Story
£16
£1 - 4 - 0
£14 - 16 - 0
A tente wth 41 acr land in ten of Jane Mason
£27
£1 - 12 - 6
£25 - 7 - 6
A tente wth 23 acr land in ten of John Day
£8 - 10 - 0
16s - 8d
£7 - 13 - 4
A tente wth 36 acr land in ten of Jane Jackson
£22 - 6 - 8
10s - 9d
£22 - 5 - 11
A tente wth 17 acr land in ten of Wllm Whitton
£8 - 6 - 8
14s - 2d
£7 - 12 - 6
3 tents wth 115 acr land in ten of Jane Jackson
£52 - 10 - 0
£4 - 9 - 5
£48 - 0 - 6
A cottage wth 6 acr di of land in ten George Mason
£3
3s - 6d
£2 - 16 - 6
A cottage wth 14 acr di land in ten of James Richardson
£7 - 16 - 8
4s - 9d
£7 - 11 - 10
A cottage wth 12 acr di land in ten of Richard Ellis
£5 - 6 - 8
3s - 4d
£5 - 3 - 4
A tent wth 53 acr land in ten of Thos Harrison
£19 - 6 - 8
£1 - 12 - 2
£17 - 14 - 6
A cottage wth 1 acr land in ten of MaryStory
£2
5s - 0d
£1 - 15 - 0
A cottage wth 2 acr 3r land in ten Henry Ward
£1 - 3 - 4
2s - 6d
£1 - 0 - 10
A cottage wth 2 acr di land in ten Henry Whitton
£1 - 3 - 4
2s - 6d
£1 - 0 - 10
2 tents,a cottage wth 6 acr land by est. in ten Jane Jackson
£28
£1 - 17 - 3
£26 - 2 - 9
A tente, wth (20 ?) acr land in ten M.Chapman
£10
£1 - 19 - 2
£8 - 0 - 10
A cottage wth 2 acr di land by est in ten Luke Jackson
£1
3s - 4d
16s - 8d
A cottage wth 2 acr land by est in ten of - Rowle, widow
£1 - 4 - 0
3s - 4d
£1 - 0 - 8
Free rent payable by the freeholders wth hold of the Manor of Crakhall ....... 17s - 8d

Sum £294 - 4 - 3
---
back to top //back to previous page